ANGLE
A stone's throw from the tourist trap of La Rambla, Angle is tucked away in the Cram Hotel, and couldn't contrast more with the heaving bustle of Barcelona's most famous street. Elegant and extraordinary, ingredients are sourced daily from local markets, forming the basis of the unforgettable tasting menu. A meal here is a gastronomic delight that hits peaks of both flavour and presentation, and each course is expertly paired with wines, cocktails, or juices so you can really luxuriate in the experience.
The food at this 2* restaurant alone is worth booking a table, but the surroundings elevate the experience into another stratosphere. Set over three storeys with panoramic views of a shimmering Barcelona, the space is airy and bright in the day and intimate yet comfortable as evening draws in. A magical culinary experience..
GATSBY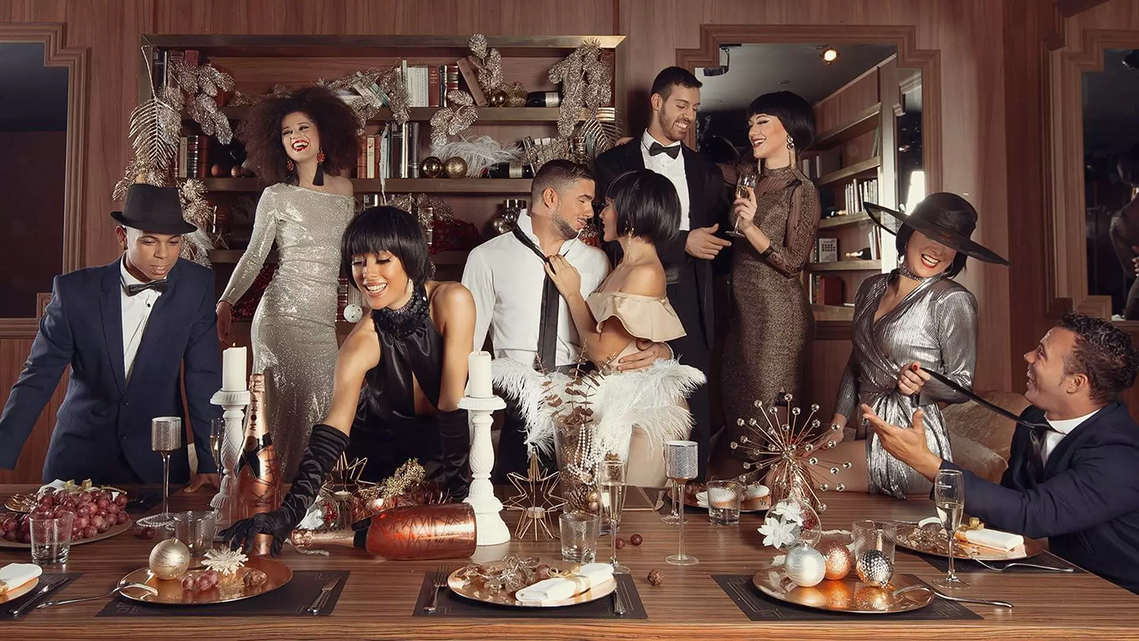 Avant-garde, stylish, and with live entertainment to boot, Gatsby, named for the infamous F. Scott Fitzgerald character, lives up to the era it invokes with its branding, delivering cornucopian delights that meld contemporary cuisine with traditional Spanish flavours. Glitz and glamour is the name of the game here, so you need to dress to impress if you're keen on trying out their delicious menu, but the effort is well worth it.
The entertainment on offer consists of live music, talented dancers, and boisterous singers who ooze class as they wind through jazz standards. Thankfully Gatsby isn't just about aesthetics. The food lives up to the upscale surroundings and then some, and the service is unparalleled. If you're looking for a unique, top-class dining experience in Barcelona, then booking a table at Gatsby is a must.
DISFRUTAR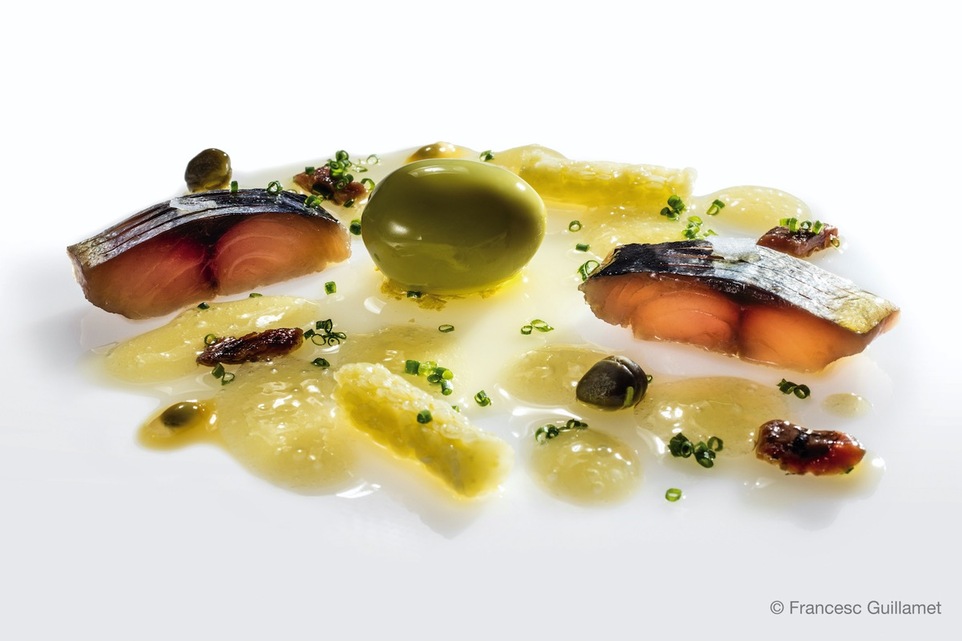 In the heart of the ultra-cool Eixample district, where most of Barcelona's most exclusive cocktail bars ply their trade late into the night, lies this exceptional 2-star restaurant that more than lives up to its billing. Coming up to a decade of being open, Disfrutar has been wowing locals and visitors alike since its inception and will hopefully continue to do so for the foreseeable future.
Although on the outside it looks unassuming, the atmosphere inside is refined but intimate, with ultra-professional waitstaff hitting the right balance between attentive and inobtrusive. This feeling of class is encapsulated by the fine aesthetic, which is distinctly modern yet remains comfortable. Despite how perfect the rest of the venue is, it still doesn't compare to the incredible dishes they produce on a day-to-day basis. They have both a classic and seasonal menu, both with their own merits, and both unforgettable. It's easy to see why the name of this restaurant translates directly to 'enjoy', because during your experience at Disfrutar it's hard to do anything else.
ABaC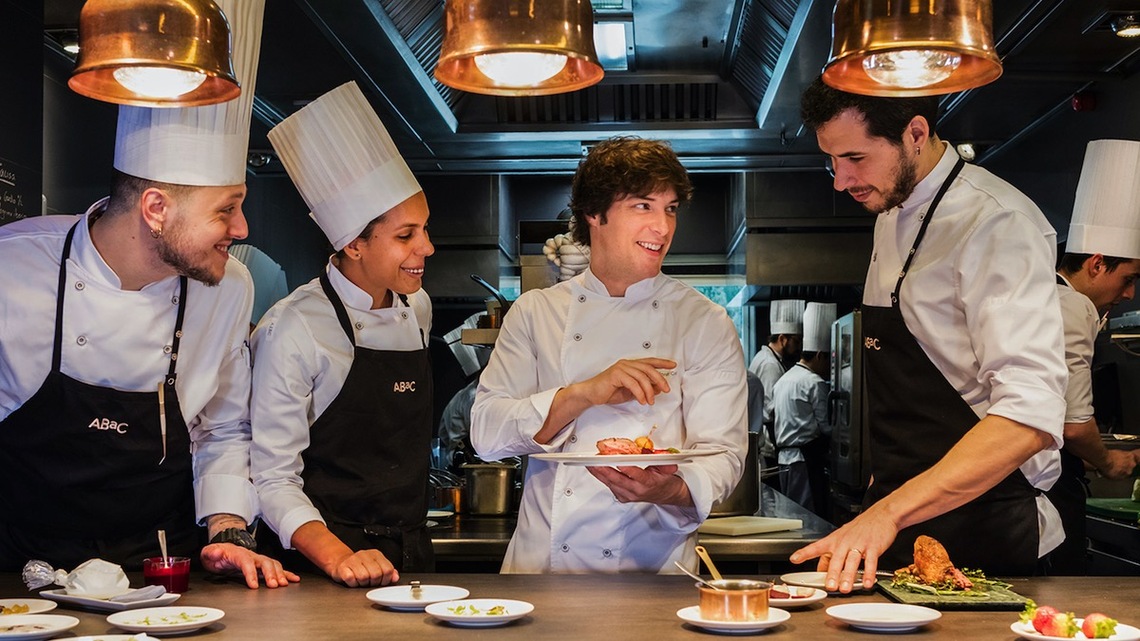 Although not all Michelin stars are equal, you can't go wrong when a venue has collected three of them. Head chef Jordi Cruz is a local boy who's conquered the world with his interpretations of classic Catalan and pan-European style dishes, harnessing some of Catalunya's best ingredients to reimagine the local cuisine, while keeping the very best of the traditions that made his family's cooking so inspiring.
Situated in the ABaC hotel, which in turn is in the stylish, boutique-laden Sarrià-Sant Gervasi neighbourhood, everything about the venue radiates splendour, from the grand hotel architecture to the relaxed but polished space of the actual restaurant. The tasting menu varies from season-to-season, but you can be sure of being served something innovative and complex, with presentation that's fitting of this artistic city. Wine and cocktail pairings are also available to complete this special gastronomic experience.
CDLC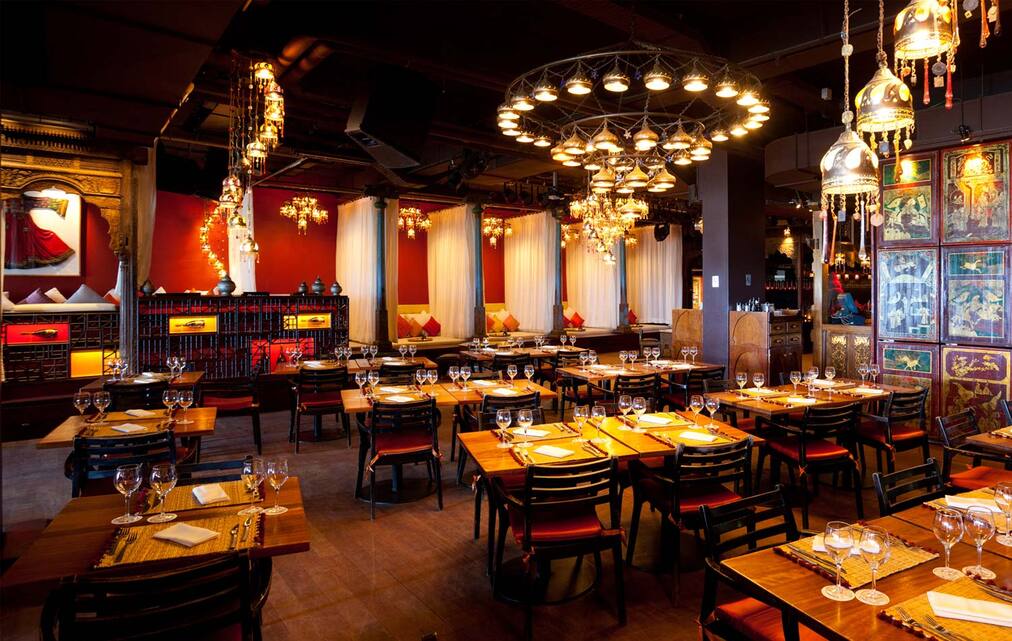 Luxurious, sophisticated, and with some of the best pan-Asian food in all of Barcelona, CDLC is an unforgettable dining experience overlooking the sparkling Mediterranean. Although there is exceptional sushi on offer here, diners can also indulge in some Spanish flavours, as well as innovative fusion dishes that combine disparate tastes to create something uniquely delicious.
CDLC isn't just known for its phenomenal food, though. Overlooking the beachfront, as darkness descends it turns into one of Barcelona's most exclusive night's out, with specialist mixologists slinging delicious cocktails, vibe-setting DJ's spinning the decks, and the city's most beautiful people coming out to play. If you're looking for an unforgettable meal followed by an even better night, you can't go wrong at CDLC.