There's nothing better than a beach club to let loose and party from dawn 'til dusk. Whether you want lounge vibes and sumptuous sunbeds or high-octane hedonism, Europe spoils with its choice of beachfront nightlife venues. Plant your feet in golden sands and dance to beats played by some of the world's top DJs, a glass of sangria in hand.
And when you're done, there's plenty of options for poolside lounging—until you're ready for round two. Here's our choice of Europe's best beach clubs for guaranteed good times.
Poolside Indulgence at Ocean Club Marbella, Puerto Banús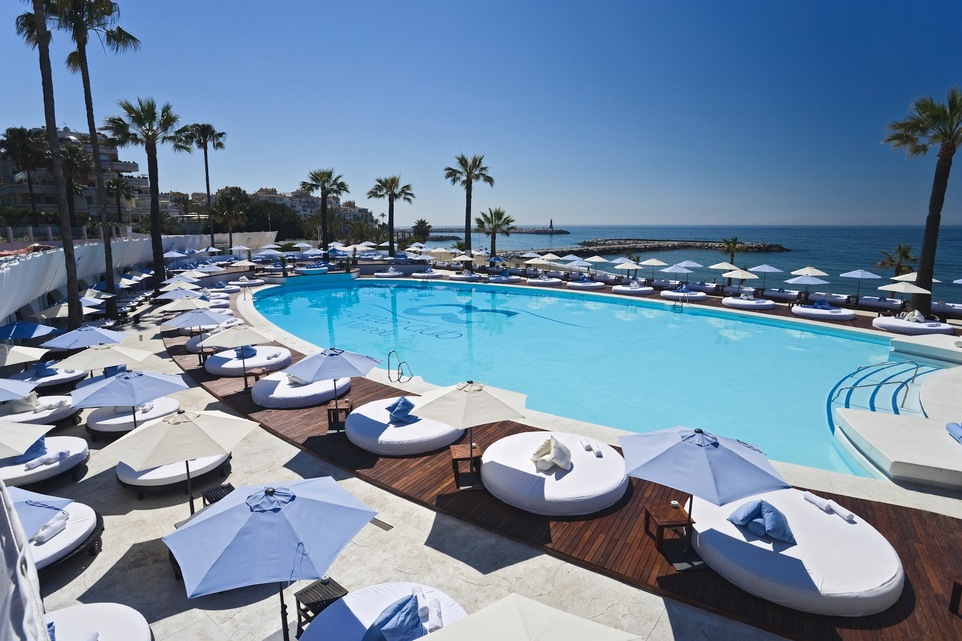 Ocean Club Marbella is everything a classic beach club should be and more. This glamorous hotspot can be found in Puerto Banús, Marbella's flashiest marina—superyachts, designer boutiques and gorgeous Mediterranean waters collide in this luxurious spot on Spain's Costa del Sol.
The venue itself covers 9,000 square meters and every one of them exudes style. Extra-large sunbeds surround a huge saltwater pool and a private stretch of beach awaits out front. Days here are laid back, the music carefully selected for a chilled ambience. Fantastic service means you'll never be waiting long for a cocktail to appear in your hand, whether lounging poolside or taking up a seat by the bar. Delicious food and poolside massages complement the experience.
As evening descends, so does a true party atmosphere. Live music, dancers, and entertainment guarantee a fun-filled evening, and top DJs firmly cement Ocean Club Marbella's reputation as one of Marbella's best beach clubs.
For bookings at Ocean Club Marbella, please visit the Ocean Club Marbella venue page.
Spectacular Sunsets and Infectious Energy at Hula Hula, Hvar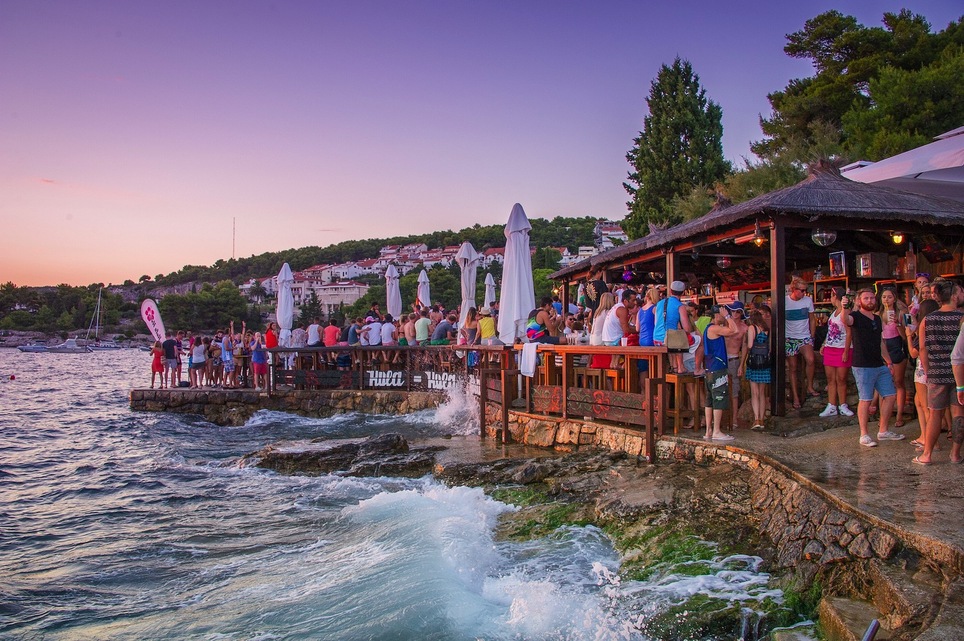 Hula Hula is the perfect venue to enjoy beach lounge vibes, infectious energy, and Hvar's beautifully rugged coastline at the same time. By day, guests can dine on delicious food, enjoy open-air massages overlooking the sea or let loose at one of Hula Hula's legendary day parties. Set down your cocktail and head out on the sparkling waters of the Adriatic—Hula Hula also organises boat trips, kayaking and paddleboarding adventures.
Spectacular sunsets kick off the evening, as live musicians accompany DJs to create the perfect beach party soundtrack. Dance the night away as waves lap the shore beneath you. This is one of Hvar's best beach clubs for good reason.
As 2 am comes around and the bar closes, you can keep the party going - Hula Hula bar is partnered with Pink Champagne club which continues long into the early hours of the morning. If the 20-minute walk is too much, staff will help you arrange transportation.
To get on the Hula Hula guest list or to book a table, please visit the Hula Hula Hvar venue page.
Luxury Lounging and Jet-Set Glamour at Nassau Beach Club, Ibiza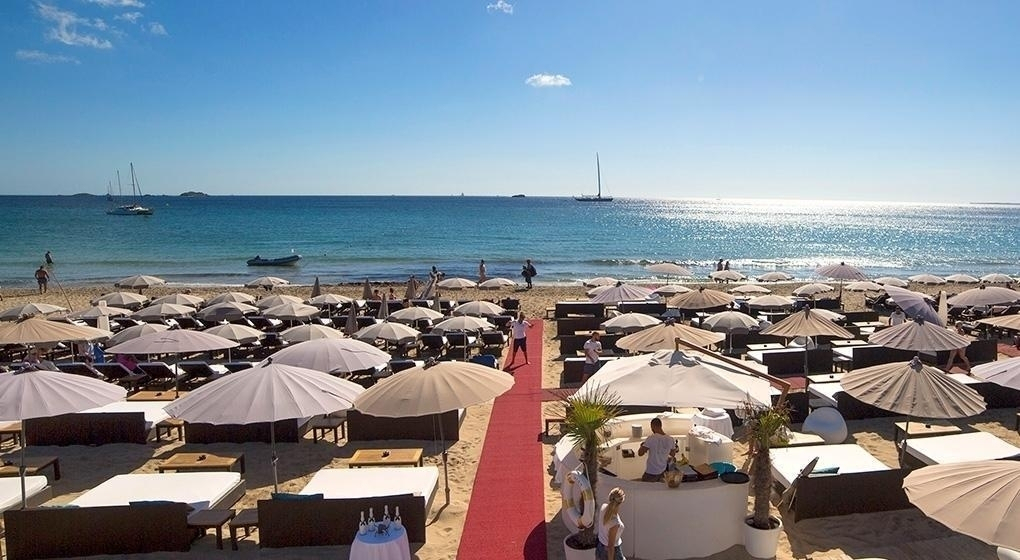 Everything about a trip to Nassau Beach Club is first-class, from arrival to departure. This stylish beach club can be found at the end of Playa d'en Bossa, one of Ibiza's longest beaches. Golden sands and crystal-clear waters set the scene for a relaxing day, whether partying or lounging.
In the restaurant, enjoy a tantalising fusion of Asian and Mediterranean cuisine. Seafood is the speciality but there are dishes to suit everyone's taste and drinks to satisfy even the hardest-to-please connoisseur. In the lounge you'll find the DJ booth, where Nassau's DJs will be spinning the soundtrack for a chilled-out afternoon at the beach, romantic dinner or lively party. Special events take place regularly so check ahead for the most up-to-date schedule.
Arriving by yacht? Nassau will send a boat to collect you—and if you prefer to stay in the privacy of your own yacht then you may still enjoy exclusive bar service from Nassau Beach Club. Give the staff a call and chilled drinks or freshly prepared food from the restaurant will be delivered straight to you.
For bookings at Nassau Beach Club, please visit the Nassau Beach Club venue page.
Loud, Lively and Legendary Parties at Beach Club, Versilia
Occupying a beautiful spot on the golden sands of Versilia, Italy, Beach Club is ideally located for open-air summer parties. Since its launch in 2010, it has cemented its reputation as one of the most exclusive beach clubs in Versilia, attracting an international crowd.
By day, expect a refined atmosphere with an inviting swimming pool and plenty of sunbeds. A fitness and wellness centre is available to guests looking to add self-care to the menu. The restaurant serves up a range of creative dishes which pay homage to the local gastronomic scene. It remains open in winter for a coastal coffee break and a more subdued atmosphere.
At night, Beach Club hosts some of Versilia's most lavish parties, with world-class music and performers. A wild crowd brings an energy that is unrivalled on this stretch of the Tuscan coastline. For a perfect blend of sophistication and untamed nightlife, Beach Club Versilia is the place to go.
To get on the Beach Club Versilia guest list or to book a table, please visit the Beach Club Versilia venue page.
Dine, Drink and Dance the Day Away at Nikki Beach, Mallorca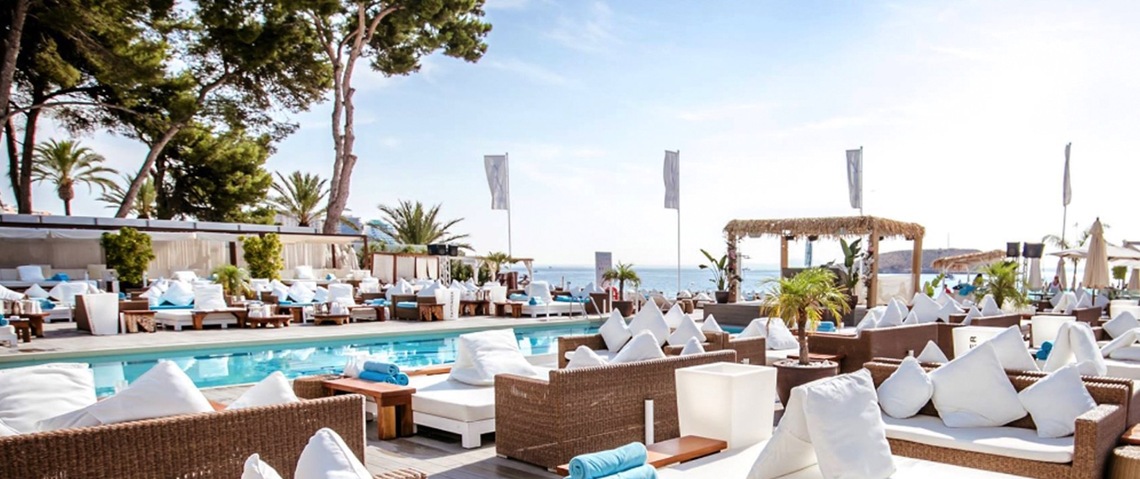 The Nikki Beach brand goes hand-in-hand with sophisticated beach clubs the world over and we love their Mallorca venue for its convenient location and exclusive feel. Just 20 minutes from capital Palma, Nikki Beach Mallorca could not be easier to reach, instantly transporting guests to a chic yet lively day party venue.
Mallorca is a foodie paradise and Nikki Beach is no exception—indulge in mouth-watering dishes and an extensive menu of cocktails and mocktails, with white Balearic sand at your feet. Chilled beats and breezy summer house music set the tone for Nikki Beach's world-famous day parties, an ideal mix for dancing, dining or kicking back and watching the waves. Spend a day here and we promise you'll want to return.
For bookings at Nikki Beach Mallorca, please visit the Nikki Beach Mallorca venue page.