Miami is even hotter after the sun sets when this Florida city transforms into a night-time playground of sultry clubs. From South Beach to the Design District, revellers should make plans at open-air lounges for moonlit nights where the latest tracks are spinning as the custom-created cocktails are being shaken. Put these five rooftop bars on the schedule for memorable times on the town among Miami's beautiful people.
Mellow vibes can be found at Watr at the Rooftop
In the heart of the South Beach strip, Watr at the Rooftop encourages laid-back vibes with wellness options for guests, like full moon yoga classes as the sun sets and moon rises. Taking inspiration from Japan and Peru, Chef Fernando Cruz's shareable menu tempts with Florida grouper ceviche, smoked cancha (Peruvian corn), Edamame with yuzu and fresh-made rolls including truffle scallop and double-baked lobster.
The Pacific vibes carry over to house cocktails, like the Negroni Chicha Morada with Aperol, Asian pear and purple corn or the Lima Geisha with Toki Whiskey, Logia pisco and banana liqueur. Make your reservation for Thursdays: Ceremonia at Watr from 4-8 pm luring the cool kids with its impressive cast of international DJs.
Party with friends at The Sky Yard at Lincoln Eatery
Solo, duo, or group, no one will go hungry at the Lincoln Eatery, with a lively selection of 14 restaurants offering palate tempters like healthy garden bowls, ceviche, and hearty sandwiches at the city's first food hall. Ascend to the rooftop bar, with its memorable views of Miami Beach and from Wednesday to Friday is a welcome go for after-work plans.
Saturday nights show up to impress with your fave neon accessories as the rooftop transforms with the help of Miami's Vice, channelling '80s sounds with 21st century beats courtesy of DJ Moto and house-crafted drinks like potent Pink Rabits with watermelon and dill infused mezcal or The Punch, a fruity concoction of Hennessey VSOP, spiced rum, peach and pineapple.
Med style at Wynwood's Astra
Ascend to this mellow Greek-infused restaurant and lounge, with unparalleled views of the Wynwood Arts District. The Sky Garden's oversized seating adds to the good vibes at Astra, while it's easy to imagine you've transported to a Mediterranean beach bar, thanks to the olive and lemon trees surrounding the tables. Al-fresco dining is a welcome way to start the night, with sharing platters like Oktapodi Sharas: grilled octopus with onions, capers, and lemon.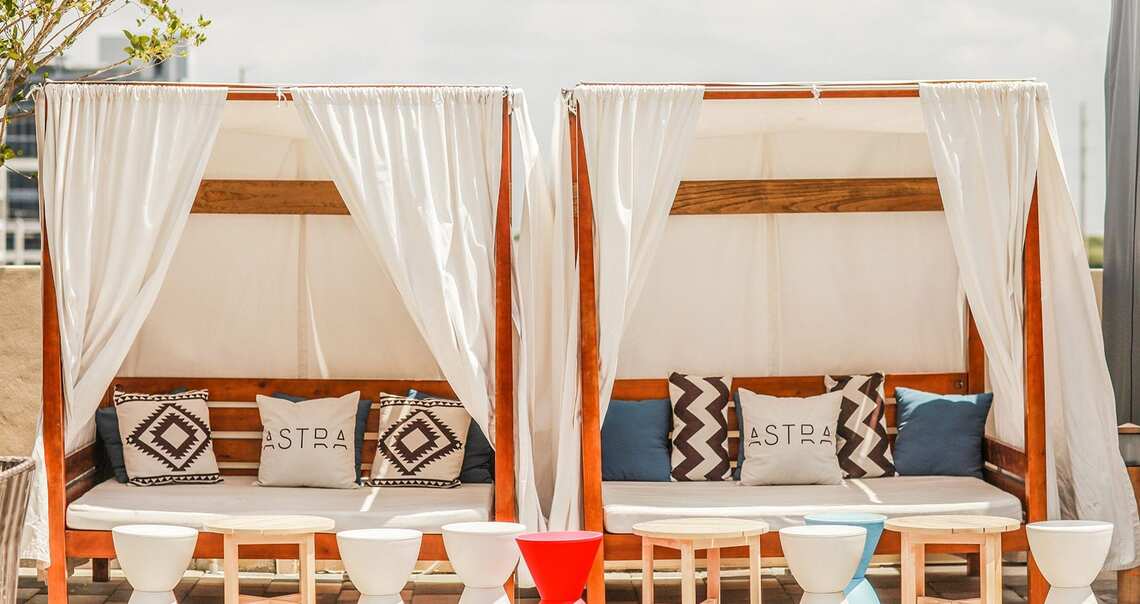 Upgrade to a private experience in the restaurant's newly-opened Moon Osteria while nibbling on the Astra Tower: lobster, king crab, tiger shrimp, oysters and caviar and a chilled option from the extensive champagne menu like Dom Perignon Rose. Make sure to get selfies with the Hot Pink Staircase, painted for the club by LA artist Punk Me Tender.
Head to the pool party at DREAM Hotel's Highbar
Pool meets bar meets sky at this Collins Avenue hotel hot spot, where infinity pool time starts early from 9 am to 8 pm daily so guests can soak in vitamin D and show off their '70s style from sun up to sundown. Ladies who lounge are seen strutting around in crochet bikinis, wedge heels and layers of necklaces with musical stylings courtesy of Studio 54 deep cuts.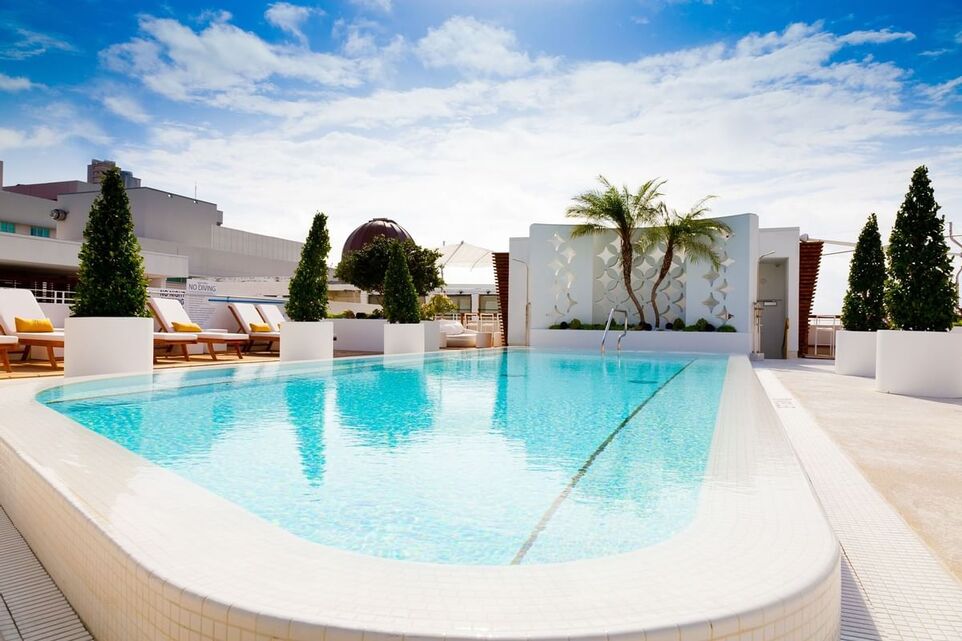 Partnered with local restauranteur Naked Taco, keep thirst at bay with house pitchers such as the heady Cadillac Margarita with a float of Grand Marnier. And when a few spicy carbs are needed when hunger pangs strike, choose hard, naked, or soft (tacos that is) like vegan General Tso cauliflower, Blackened Baja Fish or Crispy Key West shrimp.
Sunset dining at South Beach's Juvia
Preening from atop the Herzog & de Meuron building on SoBe's Lincoln Road, from the rooftop Juvia boasts has endless sky views and tables sequestered in the shade when late afternoon Miami sun is too hot to handle. Mid-century style in white and shades of purple are surrounded by a living green wall to give the beautiful people a welcome dose of oxygen to keep the party going.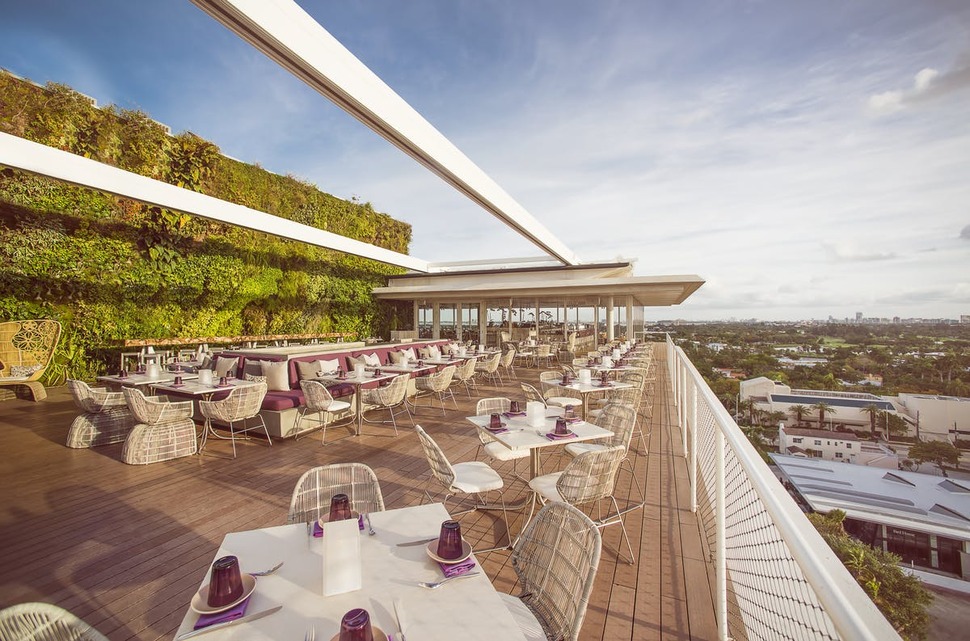 Saunter to the Champagne Bar, where Louis Roderer vintages are lined up for tastings, while foodies should plan for the Sunset Dinner, a three-course meal curated for each person from a set menu based on Mediterranean flavours with a dash of Asian inventiveness. And a sweet finish is always on the menu like Crispy Tiramisu with a 10-year-old Tawny port.
Author: Waheeda Harris