Ibiza is the party capital of Europe. Its legendary history in the dance music scene stretches back decades, and it rightfully remains a mecca for clubbers to this day. Whether you're heading to this famous Mediterranean island solely for its incredible nightlife, or because you also want to also discover its UNESCO world heritage sites and postcard-perfect beaches, then read ahead for our guide to 72 hours in Ibiza.
Friday
You stroll off your flight and breeze through the air-conditioned airport before stepping out into the dazzling Ibiza sun. You take in the taste of the warm air, because it does taste different, and catch your transfer to the luxurious W Hotel. You roll up to the front door of the lodgings and briefly take in your surroundings - you have places to be, after all. Even in this short glimpse you notice the chiselled marble fixings, and you immediately know you made the right choice in accommodation.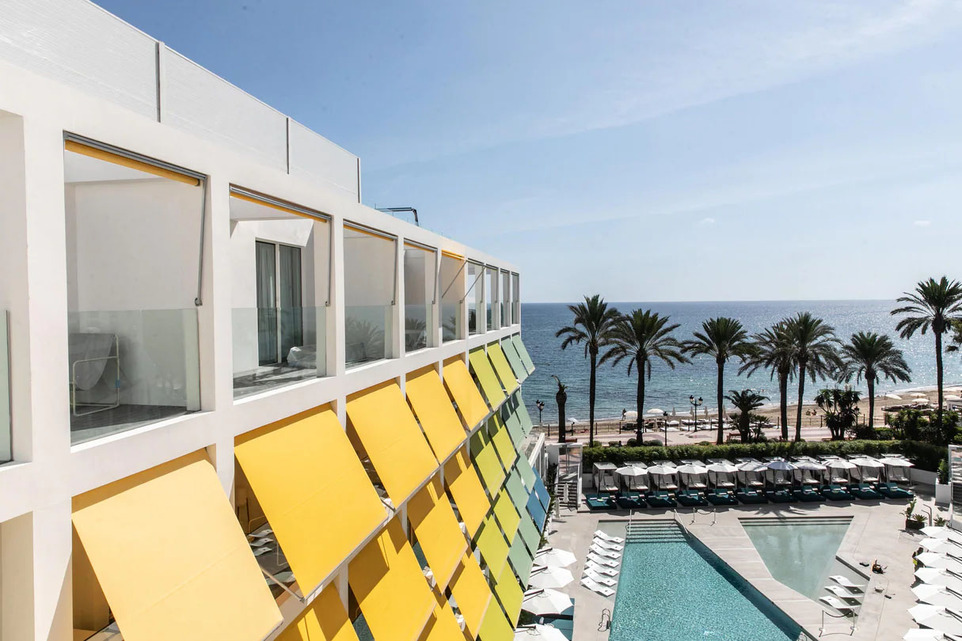 (For bookings at W Ibiza, please click here to contact our concierge)
Your room is somehow even more delightful than the rest of the hotel, blending comfort and style in a way that makes you reconsider decorating your own bedroom. But there'll be time to think of that later: you have a quick shower so you're looking your freshest, jump in a taxi and head northeast towards the premier beach club on an island packed with them: Nikki Beach Ibiza.
The second you stroll past the queue (if you are a WFC member) and enter Nikki Beach you see why people are so desperate to get in. Beach chic is the dress code, but you notice changing rooms for those that want to look their best during lunch and still get the perfect tan after they're fed and watered. You also spot the stylish boutique store with carefully selected items for the discerning shopper, and a part of you wishes you hadn't dressed so well so you could justify buying one of the items.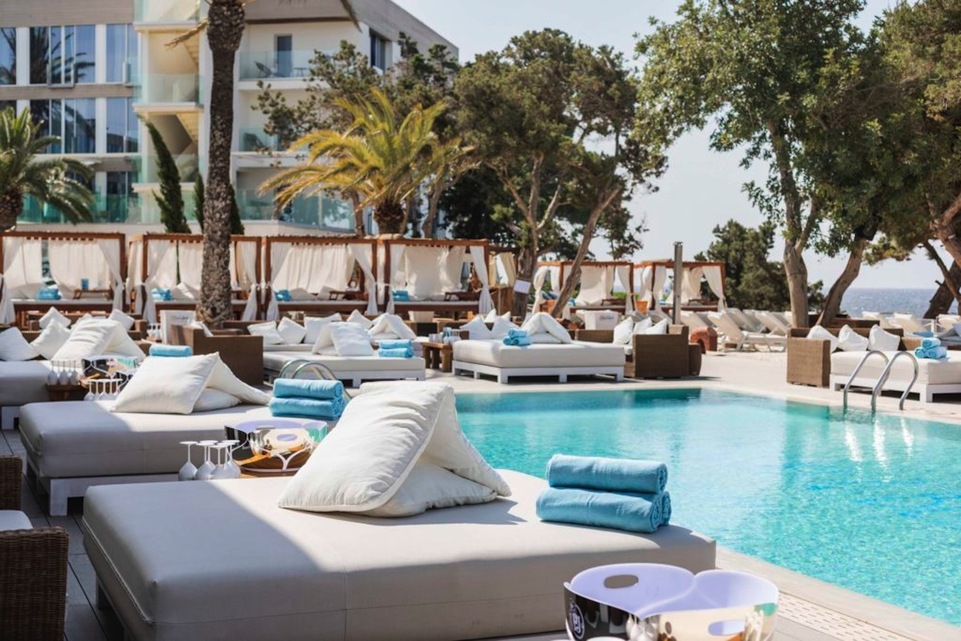 (For bookings at Nikki Beach Ibiza, please visit the Nikki Beach Ibiza venue page)
You're immediately drawn to the sunbathing area, but the appetising scents coming from the restaurant section of Nikki Beach waft past you and draw you in. You glance at other people's plates and see lovingly prepared and elegantly plated dishes. Sun can wait.
After dinner and signature cocktails you meander outside and start to socialise. A DJ is spinning decks, keeping the vibe just right. Before you know it, it's 7pm, and the wonderland that is Nikki Beach is closing - but you're not too upset. You catch a short taxi south back to the heart of Ibiza town, just in time for your dinner reservation at the Ibiza outpost of the world-famous STK Restaurant. You walk into a thumping atmosphere, and while you love the mood you worry the quality of food might suffer, but your mind is soon put to ease. You order the steak (obviously) but your party branches out, and you see even beyond their specialty STK deliver high-end dishes worthy of any diner.
After a suitably long Spanish dinner (complete with plenty of booze to wash it all down with), you're ready for the highlight of the night: the famed Amnesia. With four decades of pleasing partiers under its belt, you're whisked to another world as soon as you enter. Before you know it, it's well past sunrise. A part of you wishes the night won't end, but for now your sumptuous hotel room awaits.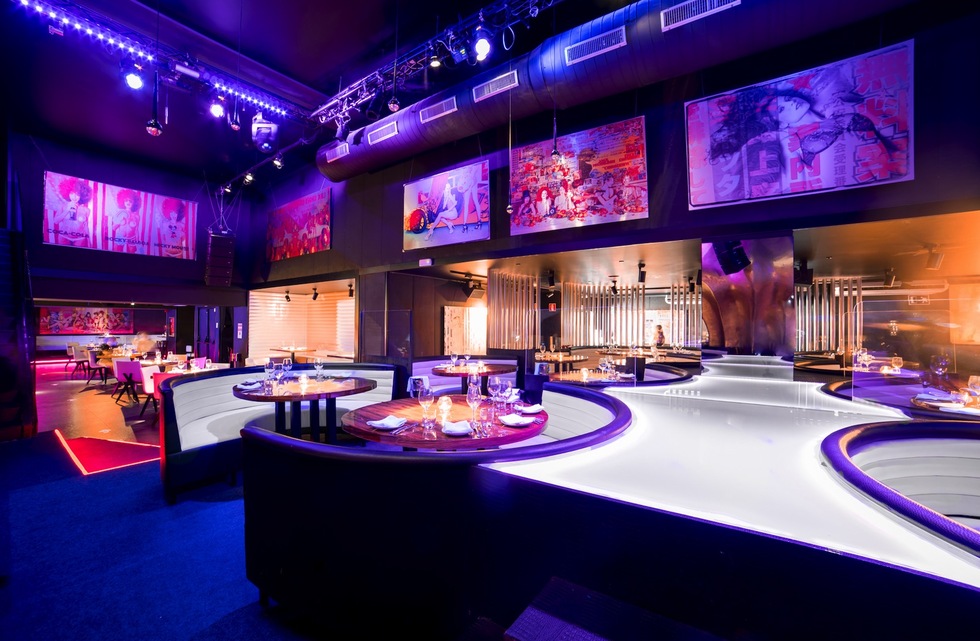 (For bookings at STK Ibiza, please visit the STK Ibiza venue page)
Saturday
You wake up feeling a little worse for wear, but as soon as you check out the W's breakfast buffet you get a new lease of life. After wolfing down whatever you fancy, you head west to Sant Antoni where you can take in a little culture at Faro de ses Coves Blanques, a lighthouse turned museum. After that, you head to nearby Cala Salada, an idyllic cove known for its turquoise waters and cliff diving opportunities. A perfect morning is capped by a dive into the cool waters, and you feel reborn.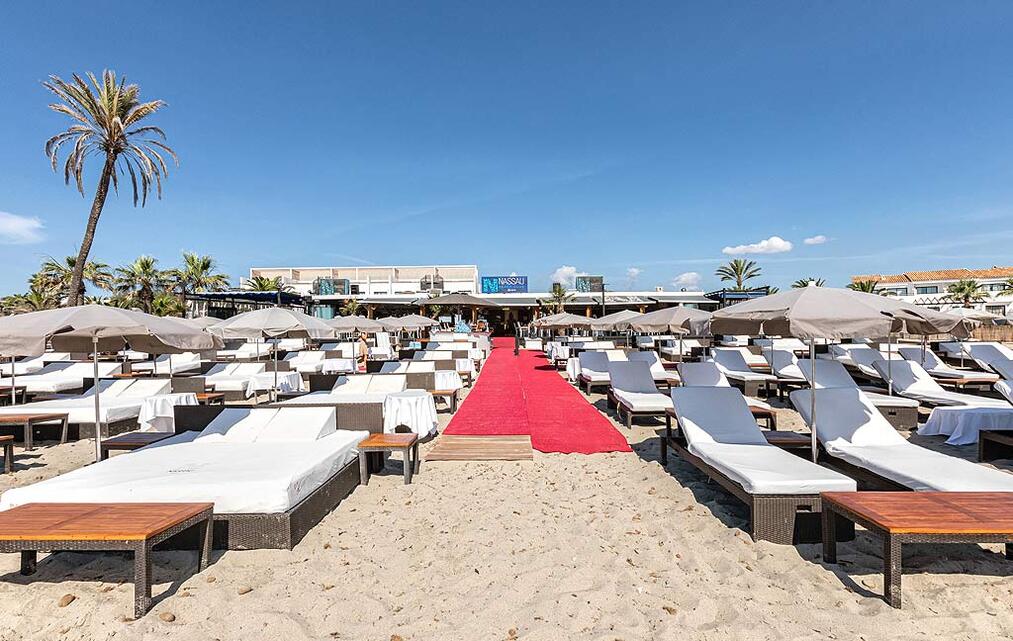 (For bookings at Nassau Beach Club, please visit the Nassau Beach Club venue page)
Of course, this is Ibiza, so the party doesn't wait. You jump in a taxi and head to Nassau Beach Club where you're immediately seated at the elegant restaurant section. You spot the cool furnishings, a combination of Eastern and Western that feels just right. Excellent service means you're soon choosing your ideal lunch from a wide selection of Asian and European dishes, prepared to the highest standard.
After you've discovered the culinary delights of Nassau Beach, you head into the outdoor section, where you lounge on a wide daybed while digesting your food and listening to the DJ drop tune after tune, all while the impeccable service means an endless slew of cocktails, wines, and anything else you might want to sip on. Before you know it, it's nearing the 2am closing time - but you're not ready for the night to end yet. With a group of new friends, you jump into a taxi and head to the iconic Pacha, just a ten-minute drive away. Here you're hit by a sensory overload of the best kind, and hours fly by as you party with Ibiza's most glamorous. You end up back at the W as the birds are well and truly chirping, but you don't mind: this is why you came here, after all.
Sunday
You decide today is the day to sweat out all the drinks, in preparation for the week ahead. Thankfully, you know dancing isn't the only form of exercise in Ibiza. You take a taxi into Ibiza Town and explore its winding streets, checking out artisan shops and high-end boutiques, all while trying every pastry you pass. The heat feels good, and you're soon ready to relax again.
After a morning of sightseeing, you decide enough is enough and head back to Nikki Beach for one last lounge in the sun at Ibiza's most exclusive beach club. The vibe is different to Friday, but in a way that fits your mood - a bit lazier, but no less cool. After trying the small plates you didn't get round to on your first visit, you decide to treat yourself to something at the boutique, before jumping in another cab to go back to the W - you still need to pack, and your flight is later that evening. As you roll away from Nikki Beach the past 72 hours feels like a sun-soaked dream, and you're already planning your next trip to this magical island.