It's just a fact: Budapest has one of the most entertaining and unique nightlife scenes in Europe, and maybe the entire world. The intriguing mix of the capital's cosmopolitan population and the Hungarian love of hospitality and socialising combines to make the perfect bar and clubbing city. Great transport connections, dozens of wonderful venues, and a perfect mix of grit and class – if you're looking for a night out, then Budapest is the place for you. Here are just some of the delights it has to offer.
Ruin Bars
In the early 2000s, a group of artists and businesspeople saved a run down building on Kazinczy Street in District VII, the old Jewish Quarter, from demolition, hoping to use it as a community and social space. However, instead of fixing it up, they decided to work around the building's dilapidated nature, adding interesting decor and unique furniture to create a truly special space. This became Szimpla Kert, the first and most famous ruin bar in Budapest.
Nowadays there are a few different choices of ruin bar in the city, with each one having its own cool vibe. Most are adorned with artwork from local graffiti artists, and all of them are known for their fun atmospheres and free-flowing drinks. Many also host secret gigs and other underground events, only adding to the exclusive factor.
While you're not going to get a VIP section in these ruin bars, there are some more upscale iterations of the concept. The best of these is probably Mazel Tov, which delivers great middle eastern dining alongside a more refined environment than the other ruin bars. If you're looking for a big night, then Fogas Haz keeps the party going until the early hours.
Our favourite ruin bar, however, is probably Doboz. The right mix of quirky and high-end, they have a wealth of excellent cocktails on the menu, as well as resident DJs who know exactly how to keep the energy of the venue up until the early hours.
Cocktail Bars
Of course, sitting in ramshackle buildings with hipsters is all well and good, but sometimes you want to add a bit of refinement to your pre-drinking experience. Thankfully, Budapest is bursting with gorgeous, luxurious cocktail bars, where mixologists ply their trade and serve you tasty creations all night long.
Good Spirit in the city centre has a wealth of whisky options that would make a Scotsman cry with happiness, as well as friendly, talented staff who can whip up an Old Fashioned as well as any you've ever sipped on. A cosy yet classy atmosphere only adds to the reasons why you should visit here on a night out.
Another one of our favourites is just a stone's throw away from Good Spirit: The Duchess. While the quality of the drinks and service makes coming here worth it alone, it's the unbeatable panoramic views of the city that make this rooftop bar truly special. Even the building it's housed in, the Baroque Revival Matild Palace Hotel, is a stunning piece of architecture, only adding to your experience.
Nightclubs
Ruin bars and cosy cocktail venues are all well and good, but you've come to Budapest to cut loose – and thankfully the nightlife in this city will not disappoint. There are a range of nightclubs for all tastes, from places with sticky floors that pump out pop until the early hours, to more refined spaces where you can sit back in the VIP area and watch the city's finest crowds dance.
One of our favourite venues in the city is Lock. It's probably the most exclusive club in the city, with queues stretching out from its doors every night that it's open. The interior is opulent, the cocktails are incredible, and the dance floor is always bumping. Music varies but is usually Hip Hop and RnB, with some electronic sneaking in as the night wears on. Importantly, the VIP and cigar room is open to select guests – and if you're interested in that special experience, our concierge service can help you secure your spot.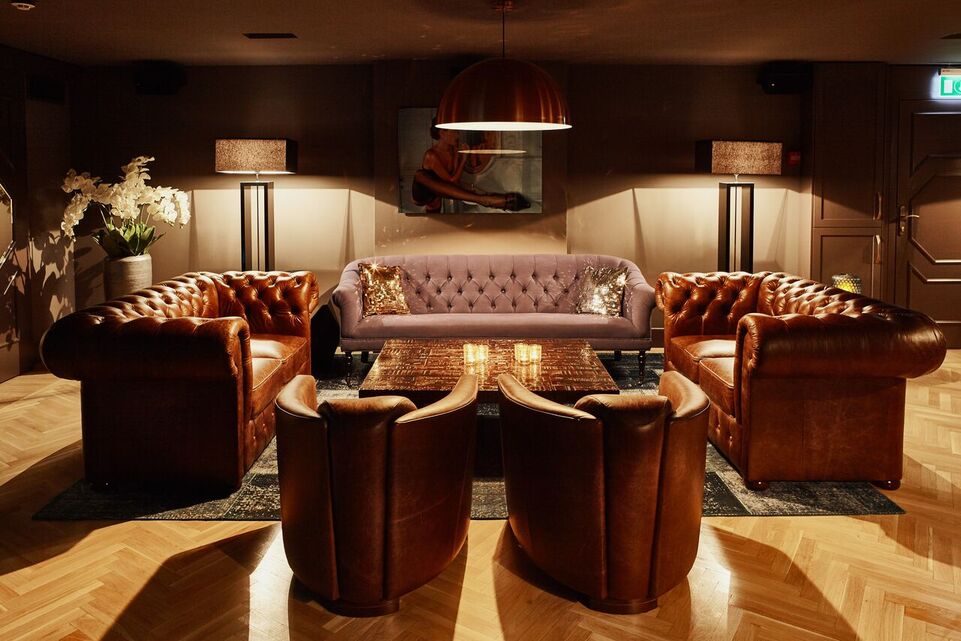 For bookings at Lock, please click here
Another perfect spot for committed partiers is Instant-Fogas. The largest nightlife hub in the city, it's blessed with seven different clubbing options all in one easy location, so no matter what night out you're feeling you're sure to get it. A true labyrinth of hedonism, there are also eighteen different bars to choose from, and as it's open until six in the morning you can keep going until the sun rises. The perfect place if you're looking for a big night in Budapest.
---
Join The World's Leading Nightlife Concierge
Get access to the most exclusive clubs, bars and more, save yourself time and let us make all the arrangements for you by becoming a member today.
To learn more, click here >