Long considered a dream destination for revellers, sun seekers, and paradise lovers alike, Koh Samui has fast shed its backpacker reputation to become one of Thailand's epicentres when it comes to premier, luxury hotels and bars. With that said, the nightlife remains among the best in the region, with visitors able to indulge in everything from the busy beach parties that pop up nightly on Chaweng Beach (complete with fire shows and dancers) to classier, quieter affairs for a more refined experience.
Whether you're looking for a classy pre-dinner drink or somewhere to enjoy the magnificent Thai sunsets before heading for a big night out, read our guide to the best bars with a view in Koh Samui.
TREE TOPS SKY & DINING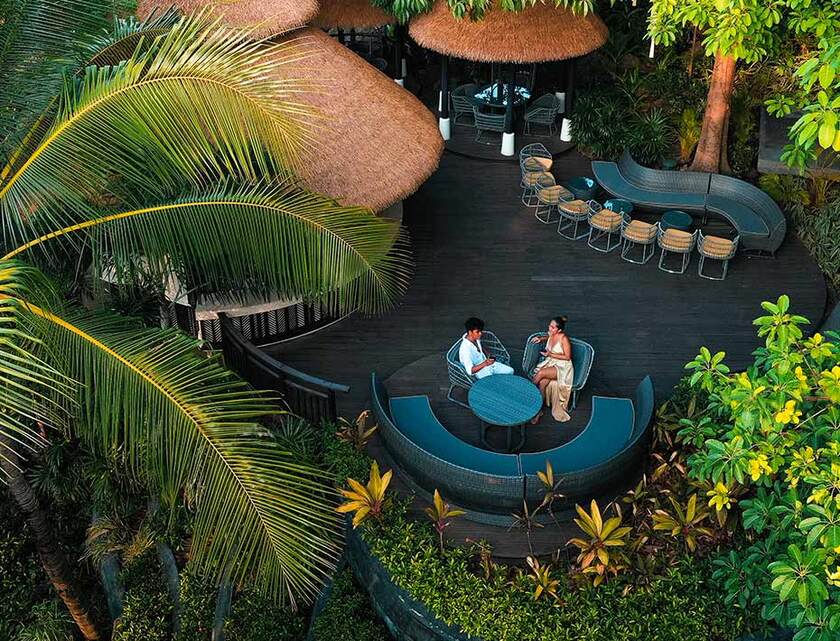 With a wine list that would shame most Parisian restaurants, fairy-tale like surroundings, and world class chefs preparing bar snacks and full meals alike, Tree Tops Sky and Dining is rightfully considered one of the best bars and restaurants in Koh Samui – and that's before we mention the astounding sea views, which stretch out over the ocean as it turns into sheets of shimmering gold under the famous Thai sunset.
Lush, verdant plants separate the different seating options, giving you a sense of privacy even in the busy venue, although if you are keen to soak in more of an atmosphere the central portion of the room is open plan. No matter where you're sitting, though, you'll be blessed with views over the sea and a sense of ambience that hits the perfect balance between refined and relaxed. A gem that shines brightly on an island of jewels.
AIR BAR INTERCONTINENTAL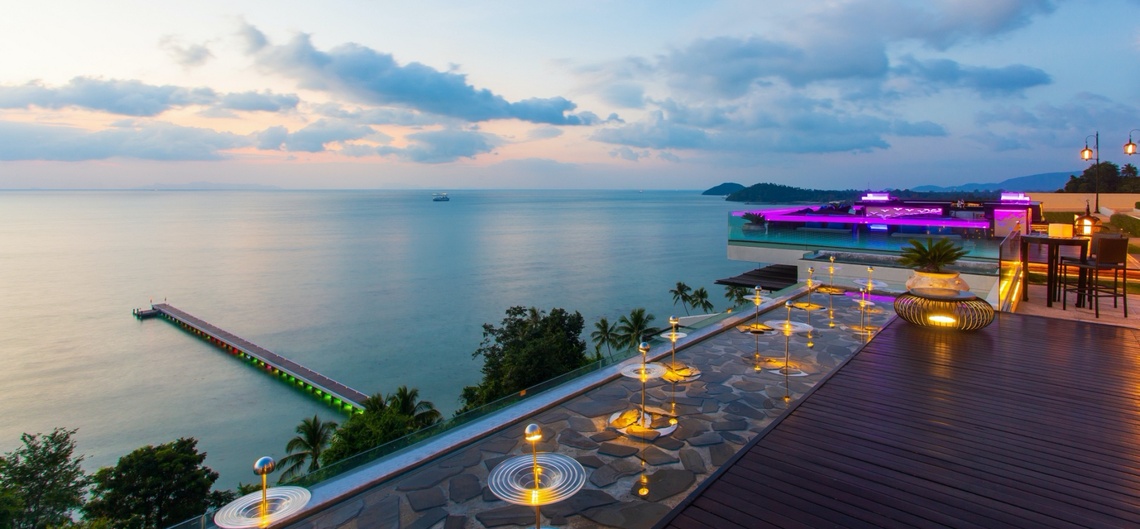 Perfectly situated for sunsets on the western side of the island, having an evening drink at Air Bar Intercontinental is a truly dreamlike experience. Nestled in lush cliffside and overlooking the Gulf of Thailand and the Five Islands, the panoramic views are perfect for a pre- or post-dinner drink with someone special, or as a great precursor to night of beachside barbeques and parties.
With live jazz on every night, as well as a wide selection of drinks on offer, Air Bar belies its seemingly secluded location by having everything you could ask for of a bar. The food is also top-notch; small plates delight the senses during the week, on the weekends there is a buffet of Thai classics prepared to standards as high as anywhere else on the island. If you're looking to start the night off right, then there's nowhere better than this stunning venue.
COCO TAM'S BEACH BAR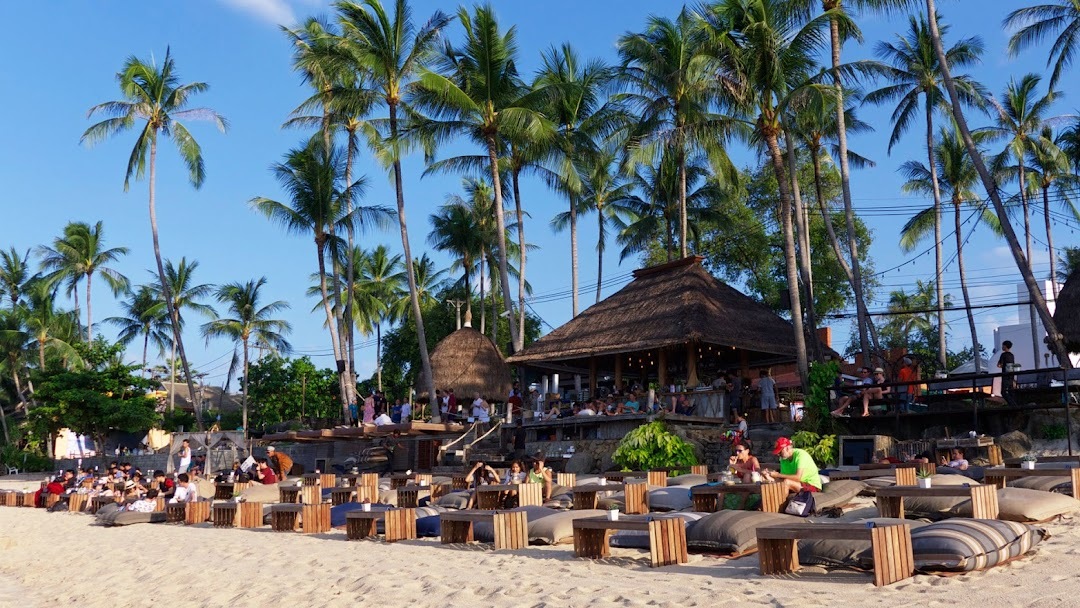 While the previous entries on this list overlook the sea from cliffside locations, Coco Tam's is an altogether more traditional beach bar experience, but still delivers on some of the most pristine views in Koh Samui while providing a lively atmosphere, and enough delicious drinks to fuel any night out. With beachside dance and fire shows every night, you won't have to leave the idyllic surroundings to get a dose of entertainment either. There's also a restaurant attached, meaning you can try some delightful local dishes before returning to the bar section and dancing the night away. If you want the perfect beach bar during the day and a pumping party destination at night, with a glorious sunset to enjoy in between, then Coco Tam's Beach Bar should be on your list of spots to visit on Koh Samui.p>
ESCAPE BY NIKKI BEACH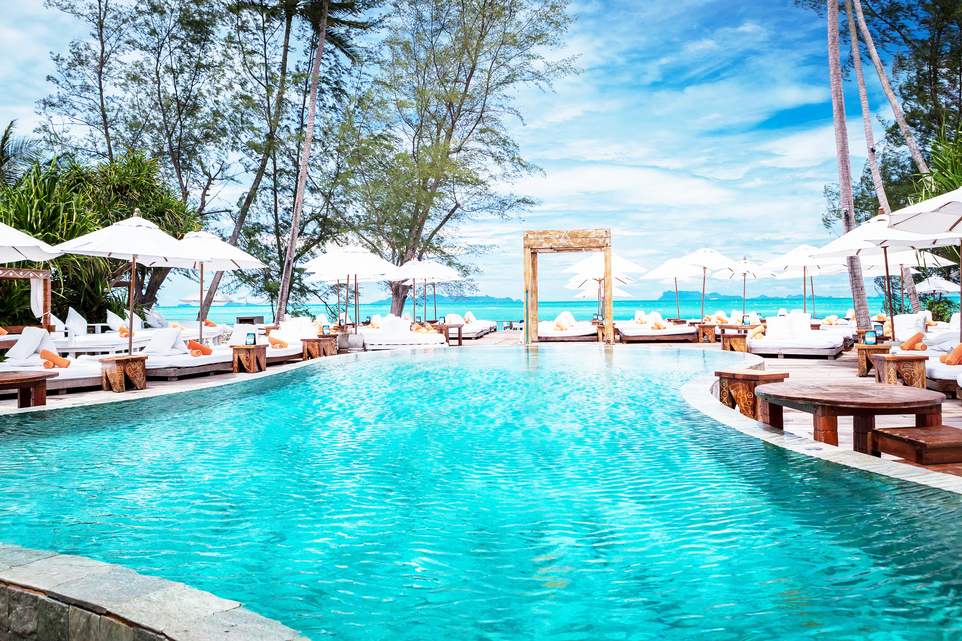 Nikki Beach Resort and Spa is the epitome of island luxury, and the vast resort contains numerous pools, private beach access, and a nightlife scene that rivals the dedicated venues on the rest of the island. While the serene Beach Club is an absolute must-visit too, the real star of the show is the sunset bar and restaurant Escape, which is only open for four hours a day but packs a lot in during this time.
Overlooking the glistening bay as the sunset paints the sky pomegranate pink, Escape offers a wide selection of food and drink, with the cocktails shaken up by master mixologists and the menu a unique mix of Thai and European dishes, with some astounding fusion recipes to boot. Resident DJ's keep the vibe relaxed yet interesting, and as the sun descends the social vibe makes it an ideal place to meet likeminded revellers.
STAR BAR & RESTAURANT, SILVADEE RESORT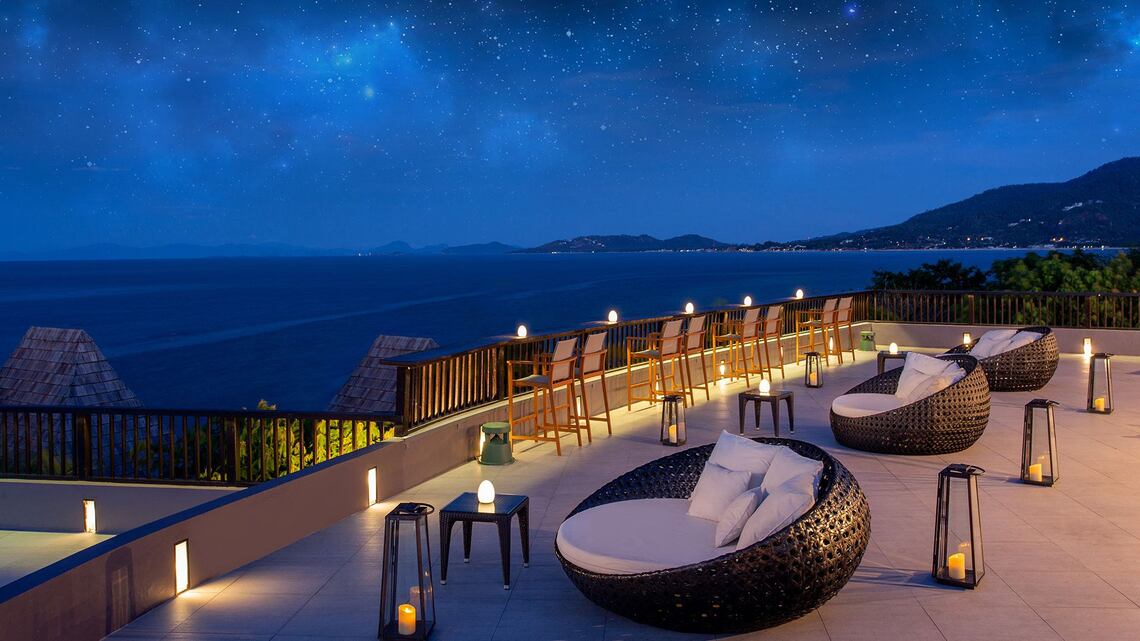 The unfathomably beautiful Silavadee Resort is home to three dining venues: Sun, Moon, and Star. Sun is for morning meals and lazy lunches, Moon offers all-day dining, but Star is the major attraction. This rooftop bar delivers unbeatable panoramic views of Lamai Bay as night descends, which can be enjoyed from the incredible infinity pool.
With a mixture of relaxed seating for drinkers and more formal settings for those looking to have a bite or two, no matter what kind of evening you're looking to have you'll find something special in this unique venue. With a capacity of 42 it's a truly intimate spot, but as the night gets going don't be surprised to find the energy becoming more vibrant as other guests prepare for the upcoming evening of fun.