While Eastern Europe has forced its way into the conversation when it comes to the best destinations in the world to let loose in, its beaches and bays remain overlooked as sun-seeking destinations - something we think needs rectifying. The region is full of idyllic stretches of shoreline that match anything in the Med or Indian Ocean, and when you add in the astounding nightlife it's finally getting recognition for, you have a perfect summer getaway.
If you're looking for a new destination but don't want to compromise on quality, weather, and entertainment options, then a visit to one of the below sunny-season getaways is a must.
HVAR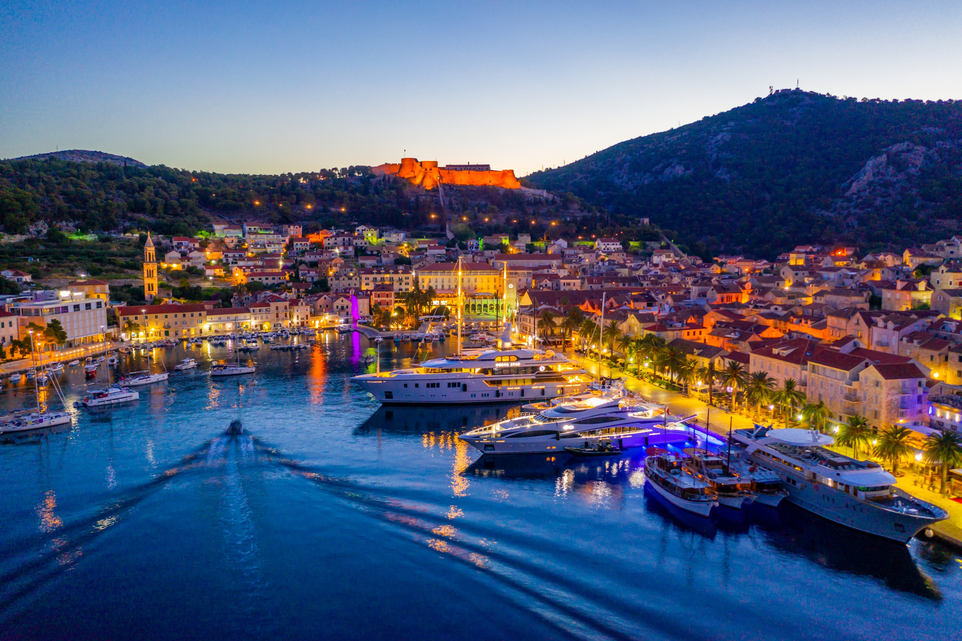 An island of super yachts, high-end cocktails, and blooming lavender: Hvar is as close to paradise on earth as you can get. The Croatian landmass lies just off the coast of the mainland in the Adriatic Sea, and is one of the sunniest spots in all of Europe. It's also got a long and illustrious history as a holiday destination for royalty, meaning plenty of interesting architecture to admire and culture to delve into.
If you're more bothered about beaches and bars than ancient fortresses and imposing lighthouses, Hvar has plenty to offer. During the day the main town (also named Hvar) basks in glorious sun, and visitors can meander through its winding streets and check out everything from ice cream parlours tucked away in tiny alleys to buzzing squares full of great drinking and dining options. Adventurous revellers can also partake in sailing, scuba diving, snorkelling, and more extreme water sports, so you can split your time between getting the adrenaline pumping and relaxing under the molten sun. And, if you're keen on interesting experiences beyond beach days, you can go wine tasting or explore abandoned ancient villages - perfect for those iconic Instagram snaps.
As night blankets the city and temperatures start to drop (but not too much), there are countless nightlife options to enjoy. Hvar Town is lined with bars, ranging from laid-back places where beer runs freely as a river, to more exclusive, high-end venues that are very much dress-to-impress. Once you've had a few tipples, you can head to one of the busy nightclubs in town.
Our favourite is Pink Champagne, a classy venue just a stone's throw from the cathedral. Open until the early hours, when you enter you're zoomed up in a lift to a bare-brick-walled room with plush furnishings, where you're met with the island's most lively crowd. With cabaret shows and dancers for added entertainment, it's the sort of place where a night out feels like the best kind of fever dream - all you have to do is take the plunge!
For bookings at Pink Champagne, please visit the Pink Champagne venue page.
BUDVA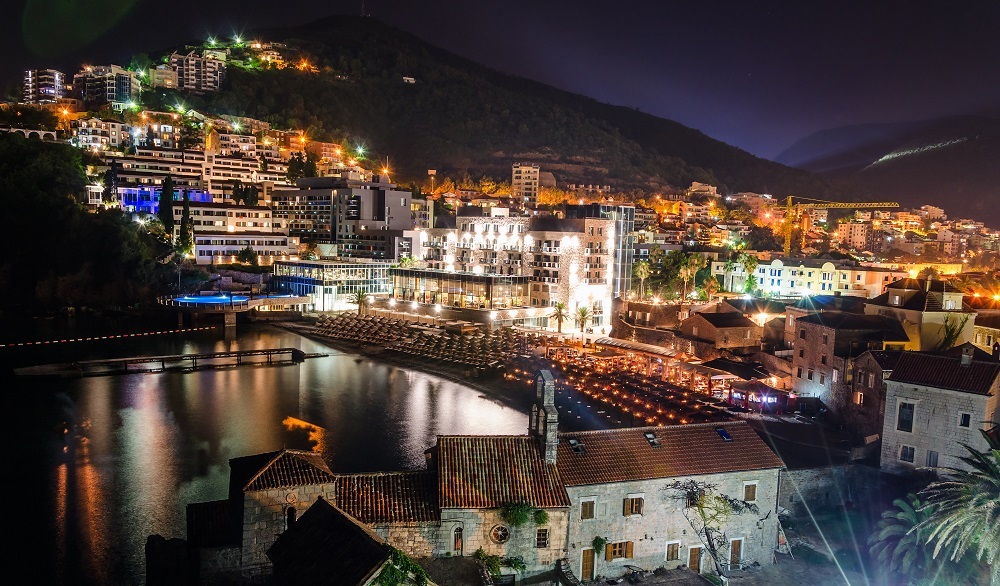 Montenegro in summer is a promised land. The Eastern European nation is blessed with a diverse landscape, and is home to jutting, green-topped mountains as well as vast fields of wildflowers. Just as stunning are the beaches that line its coast, and nowhere typifies this more than the picturesque town of Budva.
Defined by labyrinthine cobbled streets, ancient monuments, and long stretches of soft, golden sand, Budva in the hotter months is the perfect blend of culture, sun, and great places to pop open a bottle of champagne. During the day you can laze on the riviera, check out Roman ruins, or explore the edges of the ancient city walls. And that's not mentioning more heart-pumping activities like paragliding and hitching a ride on a banana boat. And, most importantly, as the sun disappears over the sea in a shimmering haze of pinks and oranges, the world-famous nightlife kicks into action.
If you're looking for your perfect day on the beach, but want to make sure you're surrounded by luxury and have food and drinks at your beck and call, then check out one of our favourite beachside venues in the town: Moët & Chandon Beach Bar. Here, class meets comfort in idyllic surroundings, with some of the best small and large plates in the city being ferried out to you while you sip on ice-cold drinks and listen to local DJs spinning tracks to keep the vibe on point. A table service venue only, you have to book to get in, but there's no better place to start off your Budva nightlife adventure than this beachside paradise. And best of all, when it closes at around 8pm, you're already in the heart of Budva's best nightlife district. What more could you ask for?
For bookings at Moët & Chandon Beach Bar, please visit the Moët & Chandon Beach Bar venue page.
MAMAIA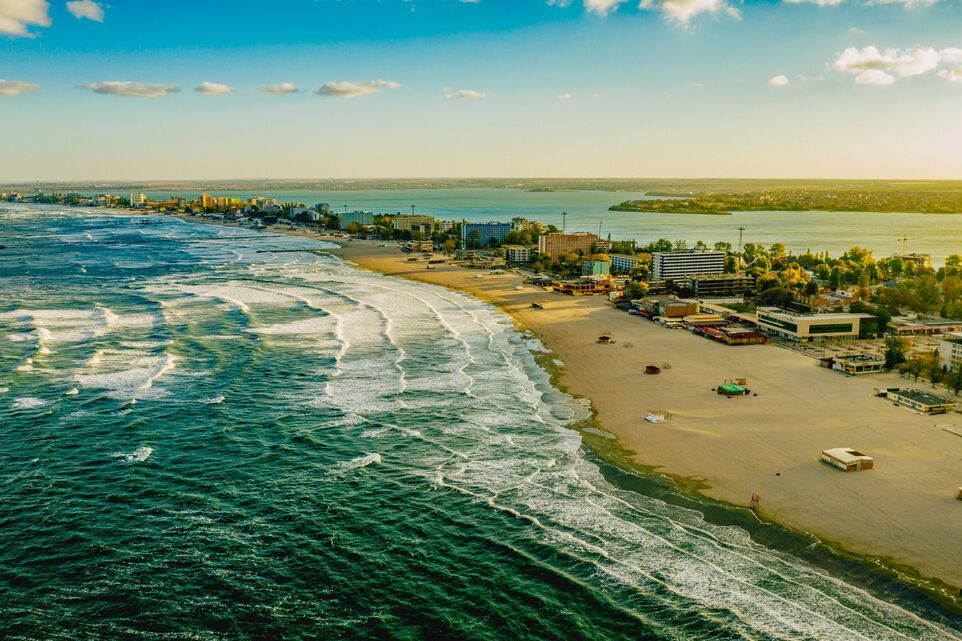 Although it's only a thin strip of land around 8km long, Mamaia is jam-packed with gorgeous stretches of sand, buzzing beach bars, and iconic nightclubs that keep going until the blazing sun starts rising again. Luxury is the best way to define this Romanian resort, which is full of high-end hotels and great restaurants to boot. And, because it's wedged between the Black Sea and Lake Siutghiol, there's plenty of opportunities for water-based sports during the day, so if you're a snorkeller or jet-skier, you're in luck.
While it might not have the cultural attractions of the other destinations on this list, Mamaia is just a short hop from the oldest continually inhabited city in Romania, Constanta, which is chock full of astonishing ancient architecture and more modern delights. Moreover, there's still plenty to do in the resort, including the famous Aqua Magic Mamaia water park and plentiful retail options. And, if you're really keen on some pampering, there are a plethora of spas to visit.
In terms of nightlife, Mamaia has plenty going on. While there's the usual laidback beach bars and more generic nightclubs for revellers to get lost in, there are also a number of high-end venues that deliver a more refined experience. The Sky View Bar at the southern end of the resort is one such bar, offering panoramic seaside views with a wide selection of drinks and snacks. Once night falls you'll have dozens of great options to choose from, including beach clubs that open out into the sand, as well as hidden gems tucked away in Constanta's winding, ancient streets. Wherever you end up going, you'll be sure to have a night to remember in this Romanian paradise.